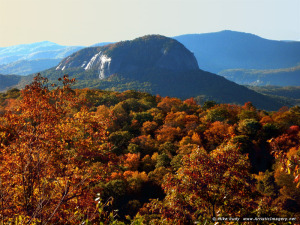 This past weekend we enjoyed a short family visit to Looking Glass Rock just off the Blue Ridge Parkway. It is always a challenge for us to get away like this due to our differing busy schedules. So this was a special time for us.
We always enjoy the ride to the mountains. There is always the anticipation of when we will first get a glimpse of the mountains in the distance. When it happens there is always a sense of relief . . . as if we got a glimpse of home. When we get there we always wonder why it has taken us so long to come back . . . and even why we are not living here? It's like returning to Narnia and breathing air that rejuvenates you and makes you feel healthy and strong.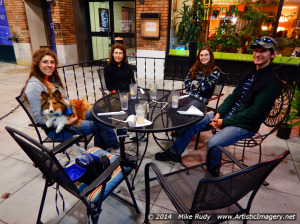 We enjoyed a nice evening meal outside a cafe at the base of the mountains, drove up to the parkway after dark, and then hiked to the top of one mountain. We had hoped to pitch a tent and spend the night, but it was so windy that we couldn't. I lost my hat and almost lost my glasses. We hiked back down to our vehicle, drove to find a secluded place, got our ground cover and sleeping bags out . . . and then we laid back and marveled at the numerous stars that we normally cannot see.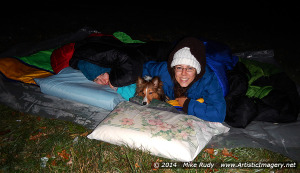 We awoke to the sound of hunting dogs and found out they were tracking black bears! After getting over the idea of being "bear bait", we ate breakfast, watched a glorious sunrise, and began our trek exploring the vistas along the parkway. We eventually reached our destination of Looking Glass Rock. After a challenging hike, we were rewarded with the amazing view seen below.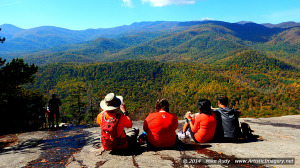 The image doesn't reveal just how intimidated you feel at that location. The gigantic rock surface drops off in front of you to such a degree, your first instinct is to either sit down or back up! That is what the group in front of us did. You realize anew how small you are and how vulnerable. After a few moments, you get a little more comfortable and daring like the people in the distance. You secretly wish you were an eagle so you could freely play in the scene before you.
We were like horses returning to the stables on the hike down. The descending incline just kept pulling us along. The youngest among us kept having to stop to wait for Mary Anne and I to catch up. Our dog, Pippin, seemed to have endless energy and enthusiasm. He was asleep within 5 minutes after we returned to our vehicle.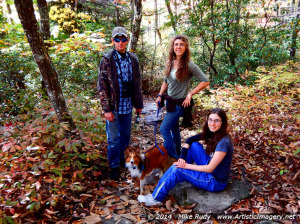 Such adventures are always too short, but we are truly thankful for them. Now we are back to our normal world and busy schedules. We are looking forward to our next adventure.
by